Top Five Summer Camping Destinations in Victoria!
— January 12, 2022 | 2 min read
Summer's here and COVID restrictions are easing – time to appease your eager travel bug. When it comes to getting maximum enjoyment out of any camping trip there's three rules, location, location, location. Here's our pick of Victoria's Top 5 camping spots.
Tidal River Campground - Wilsons Promontory

If your thing is camping in a dog-friendly location, among the trees, surrounded by wildlife and without a luxury hotel or overtly commercialised resort in sight, Tidal River Campground beckons you!
This family friendly camping area sits just inside Wilsons Promontory National Park, which is a three and half-hour drive south out of Melbourne. Close to beaches, there's loads of nature walks and a general store. During the summer months, the sprawling camp area is always full of life and activity.
@kate_miles_ Tidal river Camp Ground, Wilsons Promontory, Victoria
Bear Gully - Cape Liptrap Costal Park

Located two hours south-east of Melbourne on the shores of Waratah Bay.
The small, secluded, picturesque Bear Gully Campground is perfect for campers looking to unwind and escape from it all – while also enjoying Victoria's stunning seashore.
Campers need to be self-sufficient, so bring your own food, drinking water and firewood. Although within easy walking distance of the beach, the rocky and rugged foreshore makes it more suited to rock fishing and rock pooling than swimming. With only 34 non-powered sites, booking ahead is a must and unfortunately, no pets are allowed in the camp area – nor within the Cape Liptrap Coastal Park.
@kieranstoneau Bear Gully - Cape Liptrap Costal Park
Pink Lakes - Murray - Sunset National Park

The aptly named Pink Lakes is part of the Murray-Sunset National Park. It's located in northwest Victoria, between Ouyen and Mildura – about 530kms from Melbourne and 340kms from Adelaide.
It features very few designated camp areas, making it more suited to well prepared and self-sufficient campers. Although the isolated location does offer a number of walking tracks and bird watching opportunities, it's the extensive 4WD tracks that will be the main attraction for many adventurers.
Note, vehicles need to be confined to the designated tracks, as it's one of the world's last remaining semi-arid regions where the environment has remained relatively untouched. Give yourself plenty of time, as the vastness of the area will take quite a few days to fully explore.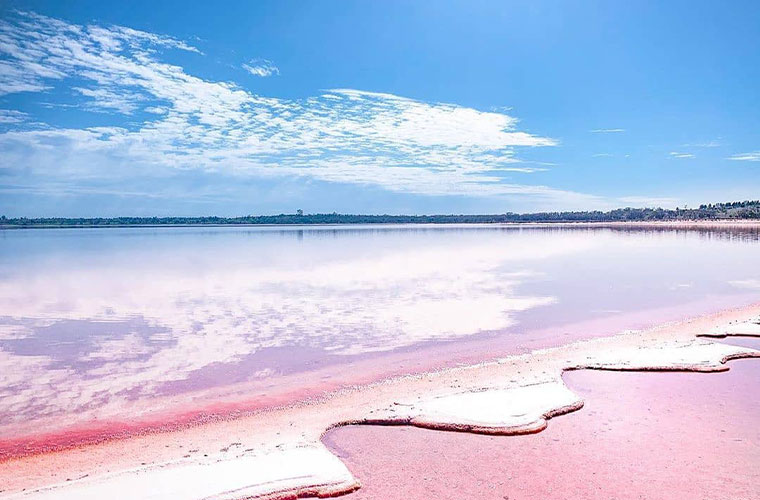 @australia Pink Lakes - Murray - Sunset National Park
Lake Catani Campground - Mount Buffalo National Park

Looking to escape the brutal summer heat? Then head to the Victorian high-country. The Lake Catani Campground is cool and refreshing from the beginning of November (Melbourne Cup weekend) through to the end of April. A bit over four hours' drive north-east of Melbourne, all campsites must be booked in advance. Unlike many other campgrounds, there are several campsites suited to visitors with limited mobility, along with a separate, accessible toilet and hot shower.
When you're ready to go exploring there's the Eurobin and Ladies Bath Falls. There's also plenty of big views of the Mount Buffalo National Park, plus remote hiking and camping, up high in the surrounding mountains. Be sure to set aside time to visit the historic Mount Buffalo Chalet. Perched atop 200-meter-tall cliffs that tower above the valley floor below, it offers spectacular views.
@brightandsurrounds Lake Catani Campground - Mount Buffalo National Park
Wye River Foreshore - Great Ocean Road

If the smell of fresh sea air and the sound of rolling waves is what sooths your soul, you'll love Wye River Foreshore camping area. Positioned right on the beach, it's surf and sand in front – tree covered mountains behind.
This picturesque camping spot is two and half hour's south-west of Melbourne – or one hour south of the famous Bells Beach. With only 60 powered and 4 unpowered sites, it's small and cosy – and very popular during the open season (October through to April). So, it's a good idea to book ahead. Being located on the Great Ocean Road, its just 20 minutes to Lorne, which hosts a bevy of fantastic restaurants and touristy stores – all tailored to the many passing sightseers. All-in-all a fantastic location for a family orientated beach side holiday.
@cerastribley Wye River Foreshore - Great Ocean Road
Don't know about you, but I'm more than ready for a holiday. Now you know our Top 5 Victorian camping spots, there's only one thing left to do – jump onto the net, type in the spot that most appeals to you and make a booking! Don't forget to enjoy yourself and leave the troubles of the world far behind.