Top Five Winter Camping Destinations in Victoria
— July 01, 2021 | 2 min read
Believe it or not, winter can be the best time to go camping in Victoria. Although temperatures may be cooler, the weather is generally more predictable, making the five top winter camping destinations listed below quieter and easier to enjoy.
Camping in winter can be surprisingly refreshing and bring a new perspective to those locations you might already be familiar with. Winter brings different sights, different sounds, and different smells to the Victorian bush, and as a bonus, the cooler temperatures provide campers with a much more restful night's sleep.
So, whether you're into fishing, bushwalking, stargazing, bird watching, or simply relaxing by the campfire, our top five picks for winter camping are sure to offer you a new experience to enjoy – and even recommend to your mates.
5. Granny's Flat Camping Area
250km North-East of Melbourne
This picturesque camping area is nestled on the banks of the Jamieson River, not far from the Jamieson-Licola Road. In the winter months, you may need a four-wheel drive to access this camping area, but we reckon it's worth the effort.
As well as offering a picnic area and non-flush toilet facilities, Granny's Flat Camping Area offers a variety of activities to enjoy including angling, camping, bushwalking, and four-wheel driving to name a few. It's also the starting point for Mitchell's Bridle Trail, a 21km walking track which follows the Jamieson River to Mitchell's Flat.
For more information visit the Mansfield Visitor Information Centre.
4. Chinese Gardens Camping Ground
185km East of Melbourne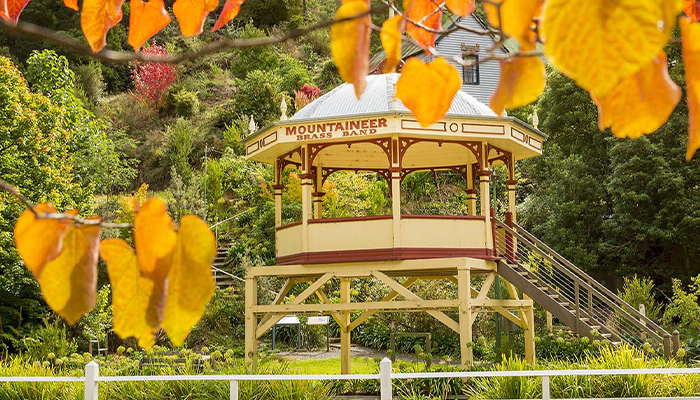 Experience life as it was in historic Walhalla by camping in the scenic Chinese Gardens Campground. Once a market garden to this 19th century gold mining town, the camping grounds act as a base for a range of activities including gold panning, bushwalking, bird watching, four-wheel driving, and horse riding to name a few.
There are picnic and public toilet facilities on site and activities including a historic railway and gold mine tour a short stroll away. If you're up for a longer stroll, Walhalla is also the starting point of the Australian Alpine Walking Track, a 655km long trail that terminates in Tharwa, ACT.
For more information visit the Walhalla Visitor Information Centre.
3. Boreang Campground
270km West of Melbourne
The Grampians is a favourite camping destination for Victorians, and the Boreang Campground an ideal base for visitors wanting to experience all that the area has to offer. Away from the busier parts of the park, Boreang Campground is perfect for watching kangaroos and wallabies graze, or for spotting red-tailed black cockatoos and even gang-gang cockatoos, if you're lucky.
It's also a convenient port from which to explore the nearby remnants of the Zumsteins historic settlement, beautiful MacKenzie or Broken Falls, unusual Paddy Castle rock formations, or the striking sandstone ridges of Mount Thackery.
For more information visit the Halls Gap Visitor Information Centre.
2. Tidal River Campground
225km South-East of Melbourne
Wilson's Promontory can be impossible to book in the warmer months, but in winter, the Tidal River Campground is practically deserted. Yet, it still provides all the amenities and comforts we've come to expect from this popular – and breath-takingly beautiful – camp site.
Close to Norman Beach and Tidal River, the campground offers 484 caravan and camping sites, picnic areas, shower and toilet blocks, and even a general store. It's also a great base from which to explore Wilson's Promontory's 11 other hike-in camp sites, to stroll along the beach, or to climb nearby Mount Oberon from.
For more information visit the Tidal River Visitors Centre.
1. Battersby's Camp
395km West of Melbourne
Located on the banks of the Glenelg River, Battersby's Camp is an idyllic location to camp, canoe, hike, or fish. It's a smaller campground, but is suitable for campers and caravanners alike, and includes non-flush toilet facilities, fireplaces, picnic areas, and non-potable water.
Advanced bookings and payment are required year-round but believe us when we say it's worth the effort. Battersby's Camp is the perfect starting point for the 75km long Glenelg River Canoe Trail, the spectacular Great South West Walk, or for day trips into the Cobboboonee National Park or Cape Nelson State Park.
For more information visit the Portland Visitor Information Centre.