Built Tough
Engineered To Be Unstoppable
The next-generation Intelli-Charge DC to DC Dual Battery Charger, or IDC25X can be conveniently mounted in engine bays and subjected to harsh vibration, high pressure water spray and extreme temperatures without risk of failure. Being vibration and shock-proof, meeting IP68 & IP69K water and dust ingress standards, it is highly durable and engineered to pass heavy vehicle standards.
With circuitry that has been fully potted with top-quality thermal epoxy resin, heat is effectively dissipated from the electronics to the outer housing, ensuring efficient operation. It keeps charging at 25A, even in hot temperatures up to 75 degrees. Testing shows the closest competitor only provide full charge to 55°C.
Reliable
Won't Let You Down
Designed, engineered, and rigorously tested in Australia specifically for remote locations, this robust charger is built to excel in demanding environments.
The efficient design will not derate in hot conditions. IDC25X maintains its maximum charge output of 25A even at a blistering 75°C and remains operational up to 90°C ensuring optimal performance for under-bonnet applications.
With its ultra-efficient power conversion technology, this charger provides more charging power to your battery while reducing strain on the charger itself, resulting in a longer lifespan for both. IDC25X comes equipped with a 5-year warranty to support its exceptional durability.
Battery Care
Provides The Best Possible
Care For Your Battery
With 3 and 5 stage charging, benefit from the fastest and best possible charge every time with IDC25X. Automatic temperature compensation adjusts the charge when the climate changes for optimum charge in all conditions. Voltage drop compensation ensures correct charge voltage to the battery.
Enjoy simultaneous charging via solar and alternator. Highly efficient MPPT solar charging ensures an exceptional charge - even in the shade.
IDC25X also comes with Lithium wake-up mode so if the lithium battery turns off, one button press ensures the charger recognises the battery and begins to charge.
Advanced Technology
Most Connected DC to DC Charger
Experience seamless connectivity and advanced control with the IDC25X. Once connected to a 2" touch screen IQD2 Intelli-IQ Display (sold separately), you can effortlessly set up, monitor and control the IDC25X from the display or remotely via your Bluetooth® smartphone or tablet paired with the Projecta Intelli-IQ app.
With the ability to adjust various parameters related to battery charge profiles, IDC25X ensures adaptability to accommodate any battery that enters the market, all conveniently controlled through the app.
Stay up-to-date with the latest features and improvements by upgrading the firmware via Bluetooth. Unlike other competitors that require physical units to be sent in for firmware updates, IDC25X can be easily updated with just a few taps on your smartphone app. Plus, set up is a breeze, thanks to single-wire connectivity.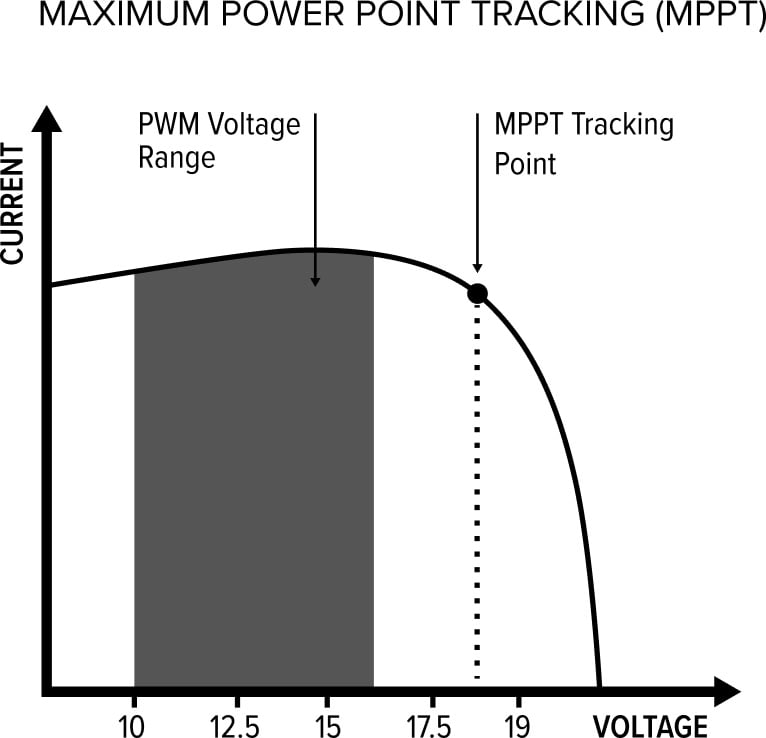 Efficient Power
MPPT Solar Charging
Advanced MPPT solar charging capabilities are incorporated into IDC25X. This versatile device comes equipped with a built-in solar controller, making solar charging its default priority.
IDC25X intelligently adjusts to the alternator as a secondary power source only when sunlight is insufficient, effectively reducing the strain on the vehicle's electrical system. The IDC25X incorporates a proprietary MPPT algorithm, guaranteeing optimal efficiency even in less-than-ideal sunlight conditions.
Harness the power of the sun with confidence and efficiency with IDC25X and enjoy reliable and effective solar charging.
Versatile
Multi-Chemistry Technology
IDC25X supports Lithium, Calcium, WET, AGM and GEL batteries with built-in profiles for true multi-chemistry charging.
When IDC25X is paired with an IQD2 Intelli-IQ Display* you can customise the IDC25X's charge profile to your system and virtually any battery chemistry, including future technologies.
Projecta's Eco-System
INTELLI-IQ LINBUS TECHNOLOGY
LINbus is the communication protocol most commonly used in the automotive industry.
Thanks to LINbus technology, an IQD2 Intelli-IQ Display* adds smart capabilities to your IDC25X, allowing you to:
Control and monitor the IDC25X via the display or any smart Bluetooth® device
Update software and firmware remotely without removal of the unit or taking it to a dealer/manufacturer - making IDC25X truly future proof
Customise charge profiles for any battery chemistry
Seamlessly parallel up to five IDC25X units
Control up to 14 other devices via Projecta smart relays
Fuss free one wire installation
Upgradable
Parallel Charging
Upgrading your system for quicker charge times and the ability to meet higher load requirements has never been easier with the ability to synchronise multiple IDC25X units to meet your growing charging needs.
Once connected to an IQD2 Intelli-IQ Display*, LINbus equips the IDC25X with the ability to natively communicate ensuring synchronised charging up to five IDC25X devices without overcharging.
Foolproof Design
Easy To Install
IDC25X has brass posts for lug termination and blade terminals, providing the most secure and reliable connection and preventing wiring errors.
Wiring IDC25X is easy and foolproof, without having to consult difficult manuals or guides. Once wired up, the unit has an easy to snap on cover, protecting connections from environmental conditions and hiding wiring to give a clean and sleek finished look.
Application Guide
Perfect For
ADVENTURERS
IDC25X is designed for 4WD, travel and marine applications where an auxiliary/secondary battery is present.
Built for vehicles that will be used in tough and rugged conditions, IDC25X can support all their power requirements for a DC/Solar charger.
*Intelli-IQ features can only be activated with an Intelli-IQ Display Screen (IQD2) sold separately.